СУЩЕСТВИТЕЛЬНОЕ. Образование множественного числа. Притяжательный падеж
Упражнение 82. Дайте соответствующие существительные женского рода.
A lion, a tiger, an actor, a poet, a man, an uncle, a husband, a brother, a grandfather, a son, a master, a baron, a count, a shepherd, a host.
Упражнение 83 Дайте соответствующие существительные мужского рода.
A lady, a girl, a niece, Mrs. Smith, a widow, a stewardess, a French woman, a cow, a queen, a princess, a duchess, a hen, a mother.

Вам понравилась страница? Расскажите другим!

Образование множественного числа существительных

a cat — cats

a dog — dogs

a car — cars

a watch — watches

a dress — dresses

a dish — dishes

a box — boxes

a boy — boys

a city — cities

a potato — potatoes

a leaf — leaves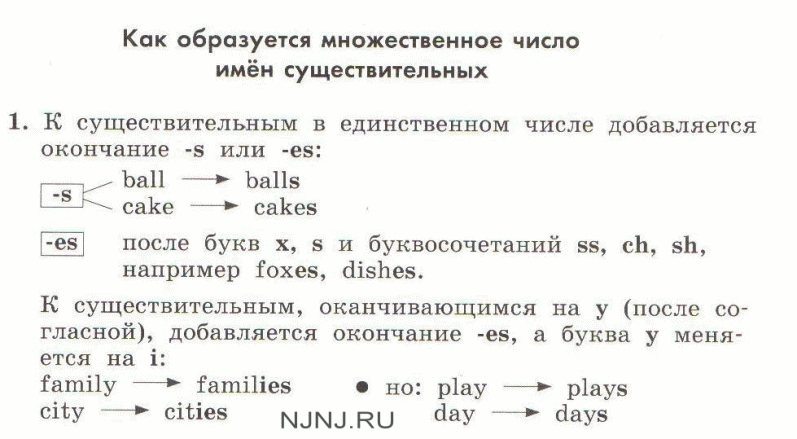 СКАЧАТЬ ПРАВИЛО
Упражнение 84. Поставьте следующие существительные во множественное число (не забудьте, что перед множественным числом неопределенный артикль нужно опустить).
A pen, a class, a story, a road, a day, a cat, a bush, a desk, a table, a plate, a fox, a room, a lady, a knife, a chair, a bus, a hero, a match, a way, a house, a family, a flag, a town, a wolf, a country, а lion, a park, a play.

Запомните форму множественного числа следующих существительных:

a man — men

a goose — geese

a woman — women

a tooth — teeth

a child — children

a foot — feet

a mouse — mice

an ox — oxen
---
Запомните также:

an Englishman — Englishmen

a Frenchman — Frenchmen

Но:

a German — Germans
---
Запомните три существительных, имеющих во множественном числе ту же форму, что и в единственном:
a sheep — sheep
a deer — deer
a swine - swine
Упражнение 85. Поставьте следующие существительные во множественное число (обратите внимание на артикли: неопределенный артикль во множественном числе опускается, определенный артикль сохраняется).
A baby, a plant, a lemon, a peach, a banana, a brush, a star, a mountain, a tree, a shilling, a king, the waiter, the queen, a man, the man, a woman, the woman, an eye, a shelf, a box, the city, a boy, a goose, the watch, a mouse, a dress, a toy, the sheep, a tooth, a child, the ox, a deer, the life, a tomato.
Упражнение 86. Поставьте следующие словосочетания во множественное число.
This magazine, that sticker, this stamp, that sandwich, this poster, this teacup, this egg, that wall, that picture, this foot, that mountain, this lady, that window, this man, that match, this knife.

Запомните:

this is — these are

that is — those are

there is — there are

it is — they are
Упражнение 87. Поставьте следующие предложения во множественное число.
1. This is a spider. 2. That is a snail. 3. This is a space film. 4. That is a cartoon. 5. This is a star. 6. This is a boy. 7. This is a baby. 8. That is a plate. 9. That is a flower. 10. That is a bookshelf. 11. Is this a sofa? 12. Is this a bookcase? 13. Is this a man? 14. Is that a ball? 15. Is that a train? 16. Is that a plane? 17. Is the window open? 18. Is the door closed? 19. Is the boy near the window? 20. That is not a king. 21. That is not a queen. 22. That is not a bus. 23. This isn't a mountain. 24. That isn't a goose. 25. This isn't a mouse. 26. It is a sheep. 27. It is a cigarette. 28. It is a cat. 29. It is not a girl. 30. It isn't a bag. 31. It isn't a tree. 32. It is not a bad egg. 33. It is a good egg. 34. Is that a flower?
---