Unit 24. Used to (I used to do)
A.
Study this example situation: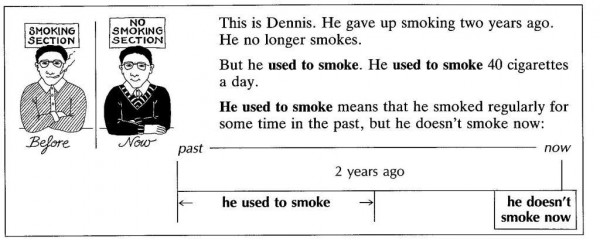 We use used to with the base form (used to do / used to smoke, etc.) to say that something happened regularly in the past but no longer happens:
I used to play tennis a lot, but now I'm too lazy.
"Do you go to the movies very often?" "Not now, but I used to."
Sue used to travel a lot. These days she doesn't go away very often. We also use used to for past situations (that no longer exist):
We used to live in a small village, but now we live in Milan.
This building is now a furniture store. It used to be a movie theater.
Do you see that hill over there? There used to be a castle on that hill.
I've started drinking tea lately. I never used to like it before.
Ann used to have long hair, but she cut it some time ago.

B.
Used to + base form is always past. There is no present. You cannot say "I use to do." For the present, use the simple present (I do). Compare the present and past:

C.
The normal question form is did… use to… ?:
Did you use to eat a lot of candy when you were a child? The negative form is didn't use to… (or never used to)
Jim didn't use to go out very often until he met Jill, (or never used to go out)

D. Be careful not to confuse I used to do and I am used to doing (see Unit 59). The structures and meanings are different:
I used to live alone. (= I lived alone but I no longer live alone.)
I am used to living alone. (= I live alone and don't find it strange or new
because I've been living alone for some time.)